Tony Finneran named Employee of the Quarter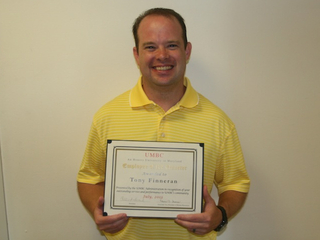 Please join me in congratulating Tony Finneran of DoIT's Business Systems Group (BSG) for being selected as the July 2013 Exempt Employee of the Quarter.
Tony exemplifies team work and dedication. His attention to detail and commitment to resolving issues is remarkable.

In the last few months Tony has worked closely with UMBC's Procurement Office to support the annual PO Roll Over process and was instrumental in the success for the Grants Reconciliation project. It is common for leaders in both the Financial Services and Procurement departments to contact me and make sure I know how key Tony is to their success.

Thanks Tony!!