Enterprise Infrastructure and Support
Enterprise Technical Infrastructure and Support is responsible for enabling the enterprise technical architecture in alignment with university strategic goals. We deliver services to the university community. These include networking and telecommunications, identity and middleware solutions, application hosting, backup and storage services, Windows, UNIX, virtualization services, high-performance computing (HPC) services, data center services and support both audio visual and desktops in the academic and administrative environment.
Enterprise Storage and Backup
The Division of Information Technology provides centralized data protection services for university departments and affiliates.  DoIT's data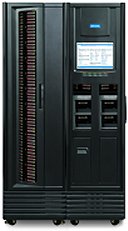 protection service is hosted by EMC's Networker enterprise backup and archive software suite that provides data protection for standard files and applications on many leading operating platforms, including Linux, Solaris, Windows, Netware and OS X.  Backups are stored on a dedicated 512 tape qualstar library. When backing up using OIT's central service, protected data is backed up incrementally every night with full backups occurring weekly.
Enterprise UNIX and Windows
DoIT's Enterprise UNIX and Windows Services group is responsible for providing primary support for UMBC's E-mail (Google and Cyrus), Web Hosting (mMyUMBC, sites.umbc.edu),  Windows file and print sharing (Microsoft Active Directory),  and Desktop and Server Virtualization services. DoIT staff members provide 24×7 support for the underlying hardware, operating system, and overall security (including university Kerberos authentication). They are also available to consult with researchers, developers, and end-users, as well as to assist the Technology Support Center in answering UNIX/Linux/Windows-related questions.
High Performance Computing Cluster
The UMBC High Performance Computing Facility (HPCF) is a community-based, interdisciplinary core facility for scientific computing and research on parallel algorithms. Started in 2008 by more than 20 researchers from more than ten departments and research centers from all three colleges, it is supported by faculty contributions, federal grants, and the UMBC administration. The facility is open to UMBC researchers at no charge. Researchers can purchase nodes for long-term priority access. System administration is provided by the UMBC Division of Information Technology.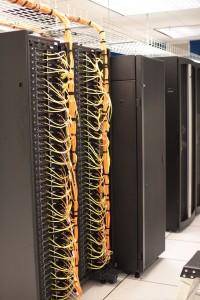 The current cluster, TARA has a total of 86 nodes. Each node features two (2) quad core Intel Nehalem X5550 processors (2.66 GHz, 8192 kB cache), 24 GB of memory, and a 120 GB local hard drive. All nodes run the standard UMBC distribution of the Linux operating system, Redhat Enterprise Linux 5. Attached to the cluster is 160 TB of central storage.
Desktop and Audio Visual Services
The Desktop and Audio Visual Services unit provides desktop computer and audio visual support to administrative and academic units throughout the University. We specialize in connecting Windows and Macintosh clients to Microsoft  file servers in the office environment and the installation and management of audio visual equipment in the teaching space.
Networking and Telecommunication Services
Networking and Telecommunications Services provides secure, reliable, cost effective, leading edge communications infrastructure and services in support of the University's mission of research, teaching and outreach. NTS provides telephone and related services to the University of Maryland Baltimore County. The services include telephone instruments and accessories, departmental telephone systems, the main campus telephone switching system, and an interface to the worldwide public switched telephone network.