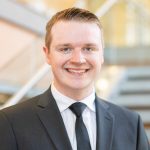 Collin has instructional technology experience in both K-12 and higher education settings. As an intern with the Howard County Public School System, Collin delivered professional development workshops that focused on incorporating technology into the classroom. This work included serving on a committee responsible for implementing the system's first Bring Your Own Device program. 
Throughout his undergraduate career at UMBC, Collin served as a student consultant to Instructional Technology, where he helped faculty coordinate the use of clickers in their classrooms, led trainings about supported cloud storage options, and created the first annual TechFest. As the Learning Management System (LMS) Support Specialist, Collin will focus on Blackboard administration and troubleshooting, Blackboard Collaborate support, and training. 
Collin earned his Bachelor of Science in Information Systems and Bachelor of Arts in Economics from UMBC.