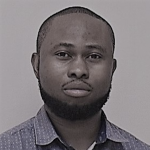 Mobie has more than 14 years of experience in higher education, 10 of which has been in the instructional design and e-Learning field. At the University of Baltimore, Mobie oversaw administration of the Sakai learning management system (LMS), and administered the eXplorance student course evaluation system as well as instructional design and development initiatives. He led projects to support the LMS upgrade by coordinating testing efforts, documenting and resolving issues, and collaborating with external IT vendors.
Mobie works closely with faculty to design, redesign or enhance their course offerings in accordance with the Quality Matters (QM) Rubric, promoting best practices on course design and delivery. As an intern at UMBC, Mobie was actively involved in the successful implementation of a new lecture capture system, (Panopto), creating training materials and multimedia tutorials to support faculty.
Mobie earned a master's degree in Instructional Design & Systems Training, a postgraduate certificate in Instructional Systems Development, and a postgraduate certificate in Instructional Technology, all from UMBC; he also holds a Master of Public Administration degree from the University of Baltimore.