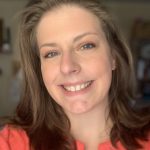 Laura has been in higher education for nearly 14 years. She began as a student worker at McDaniel College in the Information Technology department, where she supported staff in all areas of IT including infrastructure, helpdesk, and desktop support. She graduated from McDaniel College in 2008 with a B.A. in Studio Art with a focus on Graphic Design. Laura continued to work for the McDaniel College IT office during her graduate work.
In 2014, Laura became the LMS Administrator for the Department of Instructional Technology at McDaniel College. In this role, she managed LMS support, delivering training on campus software and the LMS. Laura implemented and managed the deployment of an online course evaluation software, helping the institution away from paper and pencil evaluations.
Laura graduated with her M.S. in Curriculum & Instruction from McDaniel in 2017. Soon after, Laura was promoted to Associate Director of Instructional Technology, where she began focusing on best practices of course design and strategic use of the LMS software to enhance the teaching and learning experience.