GO Kit Series: Prepare Active Learning for Course Continuity
Minimize impact of campus closures with a Go Online Kit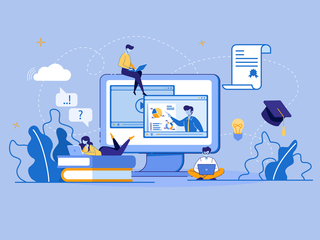 This article is a part of Instructional Technology's Planning Your Go Online Kit series. Explore communication, active learning, and assessment strategies in an online environment to keep your course on track in the event of campus closure. View our in-depth webinar recording from March 11. 
Campus may be closed, but that does not mean there has to be disruption to your course schedule. After creating and sharing a communication plan with students, you can take steps to foster an active online learning environment. Active online learning takes two primary forms: content creation and course engagement. 
Content Creation
How can you share course content and materials to keep students on track? To get started, be sure that you have shared the course in Blackboard, specifically reminding students of your expectations when campus is closed. Next, identify course content that can be converted into a digital format using a variety of different tools: 
Especially in an online learning environment, the abilities of all learners should be taken into account. Ally is a tool built into Blackboard courses that scans uploaded course content, performs a series of steps to make them more accessible, and provides alternative formats for both students and faculty to read or listen to content. 
Active Online Learning means Continuous Learning
Captivating content and encouraging active participation will keep students on track to meet learning objectives. Even with campus closure, students will be able to meaningfully engage and participate online. Engage with your students using synchronous and asynchronous tools in Blackboard.
Whether classes are postponed due to
weather
,
illness
, utility and infrastructure, or other emergencies, DoIT offers many resources beyond Blackboard to support
academic continuity
. Know which instructional technologies you can use in your Go Online (GO) Kit to maintain academic continuity when your class cannot meet in person. Join instructional technology for this interactive webinar.
Click this link
to register for the session.