More than 80 percent of all UMBC registrar-controlled classrooms are equipped with fixed projection systems; mobile technology carts can be delivered upon request to other classrooms on a "first come, first served" basis. A/V Services staff can easily provide training or demos of any technology during "free hours" when classrooms are not scheduled (M & W at noon).
Used by more than 4,000 students, UMBC has standardized on the Turning Technologies "clickers" to support instant student feedback to questions posed by faculty in the classroom. Results can be anonymous to support assessment of sensitive subjects, or identified by student userid and imported into a corresponding Blackboard class. Either way, the in-class, summary display of all student responses allows the instructor knows what students do (or don't) understand before moving on to other concepts.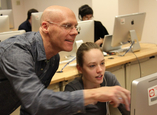 DIGITAL STORYTELLING IN THE CLASSROOM
Faculty development opportunities are offered that help bring new media technologies into the classroom. DoIT's New Media Studio sponsors a series of Digital Storytelling workshops that bring together faculty from many disciplines to learn new techniques and share ideas.
DoIT maintains and operates over 20 computer labs at UMBC. Of these most are classroom labs with instructor units connected to a data projector with screen. These labs can be scheduled in advance by professors and some student groups for a single event or as the regular meeting place for a class.
Akinidi is a bubble sheet assessment tool that can be printed and scanned from any local printer/scanner. After students complete their assessment, faculty scan returned bubble sheets into any printer/scanner to create a PDF, which is uploaded into Akindi. Results are processed within moments and grades are immediately posted to Blackboard.