Fall is Here: Time to Cast Off Your Excess Paper and Emails
A Glance at How Student Affairs Spruced Up Their Workflow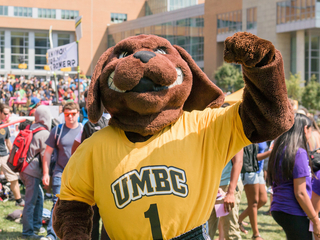 Before you start working in an office, it might be hard to believe how much of your workday can be spent sending emails. Even after you've gained enough experience to be comfortable drafting professional emails quickly and efficiently, email correspondence can still occupy a significant portion of your time.
Compliance Specialist Whitney Ames is quite the accomplished emailer. When creating Athletic Scholarship agreements for the Division of Student Affairs (DoSA), Ames had to send them individually to over 200 students, many of whom needed reminders and updates to get them to reply. Considering the time-sensitive nature of these forms, in addition to the numerous other tasks that DoSA staff must complete during the same period, it is clear that this system was not ideal for either staff or students. That's why DoSA has prioritized accessibility and quality service as they've replaced paper processes with digital workflow.
Working with UMBCs Division of Information Technology (DoIT), DoSA has converted many heavily used paper documents to DocuSign forms that can be signed and submitted electronically. Implemented in numerous departments including Campus Life and Athletics, these digital forms have made life easier for everyone involved. Instead of mailing incoming athletes 15 pages of health and permission forms, Athletics can send them out in a secure email that provides quick, easy access and signing ability on any device. The student athlete can then submit the form electronically, which relieves staff from having to sort and file lots of paper documents as well as scan and upload the document to their electronic medical records.
Assistant Athletic Trainer Kristina Miller says, "DocuSign has streamlined us to the point that our time is now better spent serving the student-athlete instead of dealing with papers everywhere."
If a student doesn't respond immediately, DocuSign automatically sends emails reminding them they have a form to sign. The document itself offers instructions and tool tips that tell the signer exactly what they need to know for each field, so DoSA staff do not need to spend a lot of time correcting mistakes. In addition, DocuSign Mobile allows signers to conveniently sign and submit electronic forms directly on their mobile device. DoSA can also track and resend documents when necessary.
According to IT Manager Ken Schreihofer,M.S. '11, Information Systems, these tools help meet student expectations of better service, with the first completed forms submitted within minutes of being sent out and total compliance approaching 100%.
Whitney Ames agrees, saying, "the most impressive change has been in our response rate. This year, we sent reminder emails to fewer than 10 students and most aid agreements were returned nearly a month ahead of their normal timeline."
E-signature technology provides a robust platform with an easy-to-learn interface that can create solutions for numerous administrative concerns. Between DocuSign and Request Tracker (RT), Schreihofer says that DoSA is now running low on paper forms. With the help of automated digital workflows, any department can make gains in sensible efficiency and productivity.
More Info: