Raley, Kelly Named Employees of Quarter
1st non-exempt, exempt EOQ recipients from same dept.
February 24, 2016 1:03 PM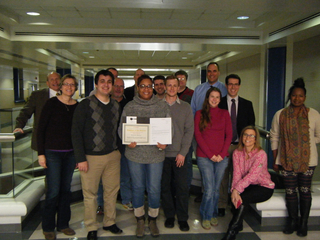 DoIT would like to recognize our own Pamela Raley and Ed Kelly for receiving the Employee of the Quarter (EOQ) award. The EOQ program recognizes the outstanding qualities and contributions of employees towards departmental and institutional goals and mission. This also marks the first time a department has had two employees win both the exempt and nonexempt awards in the same quarter. Pam and Ed will both receive a check for $500, a special parking space, and one day of administration leave.
In order to be eligible for the award, you must have been been employed at UMBC for 2 years and have made contributions to your department.
Pamela Raley has been named UMBC's Nonexempt Employee of the Quarter effective January 1 through March 31, 2016.
Pamela Raley,
Business Service Specialist for DoIT, began her career at UMBC in February 1997. Pam has worked as the DoIT payroll processor and liaison to HR, ensuring that all staff and hourly employees never miss a paycheck. Pam was presented the award on January 13, 2016, with many of the DoIT staff forming a parade line and marching into her office to announce the surprise to her and celebrate with cake. 
Raymon Soellner, Network Manager for DoIT, nominated Pamela for the award. Soellner said "On many occasions she has volunteered to work from home and stayed late into the evening so that employees could stop by and submit late timesheets or supervisors could work with her to finish up work so she could make sure everything got handled quickly and correctly."
When the transition to
electronic time sheets
first began, Pam was one of the leaders in keeping everyone organized. "Pam never let an employee's pay be affected by the onboarding and transitioning of new staff." said Soellner, "She always worked with the supervisors as well as the technical staff to adjust the process and ensure that in the future no one would slip through the cracks in the system."
When not working for DoIT, Pam is very active within her church and sponsors families throughout the year. She also encourages the department to donate to those who are less fortunate.
Ed Kelly has been named UMBC's Exempt Employee of the Quarter effective January 1 through March 31, 2016.
Ed Kelly
, PeopleSoft Technical Specialist for DoIT, received the Exempt Employee of the Quarter award on January 14, 2016, at a special staff "meeting" where various DoIT staff members congratulated him and celebrated with cake. 
Ed was nominated by Arnold Foelster, Director of Enterprise Systems for DoIT. Foelster said "Ed was a PeopleSoft Technical trainer for eight years and his PeopleSoft technical skills are second to none. His genuine passion for sharing his knowledge has benefited DoIT and indirectly to the faculty, staff and students that we support."
Ed began working for DoIT in 2010 in a temporary position and was brought on as his current position in 2011. One of his main projects was the
Profile Sharing Project
, which allows students to share their student data like grades, schedule, and Blackboard activity with whoever they want. Ed worked closely with myUMBC portal architect Collier Jones to ensure that the correct data was being displayed to whoever the student designated. "Ed is a ninja," Jones said, "and [is] extremely responsive to our needs." 
Congratulations to both Pam Raley and Ed Kelly on their EOQ awards.