Come Fly With Me: Goabroad Makes it Easy to Study Abroad
Study Abroad Office and DoIT Launch New Tool for Students
February 10, 2017 6:54 AM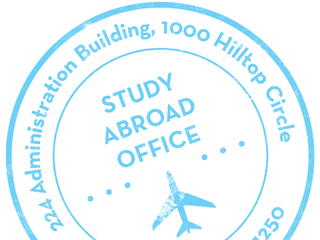 16 years ago, the
Study Abroad Office
(SAO) had a simple software tool called FileMaker Pro to track study abroad requests. However, many of the 'features' the tool could not adequately match the needs and demands of UMBC today. Only one person could be logged in at a time, information inputted couldn't be tracked, and data could be easily deleted. On top of all that, SAO had to come in to the office since the software was only available on UMBC machines. 
On the student side, they started out with paper forms and later moved to Google forms. Both were ineffective, as manual entry of this data still had to occur, leading to out of date contact information. A student could apply to study in one country but change their mind and SAO would have no idea. 
"Everyone just got used to it being limited."
It wasn't until sometime later where,
Caylie Zidwick
, Assistant Director for Study Abroad, had enough. "I started working here, and finally had it," said Zidwick. "Everyone just got used to it being limited." She decided to reach out to DoIT, where
Bryan Lee
, a Cloud Business Analyst, worked with her to find an improved solution, and that solution was
Goabroad
. 
Lee and Zidwick worked together to specify the needs and requirements of SAO and set out to integrate PeopleSoft data and Single Sign On (SSO) capabilities, which allows a student to sign in with their myUMBC credentials rather than creating a separate account. 
"Not only is this is an important step in securing student's data, but also it removes the hassle of students needing to create and remember yet another username/password combination," said Lee.
"We're going to eliminate approximately 6 weeks of data entry…"
With the integration of PeopleSoft, Zidwick now could have up-to-date information for any students applying to the study abroad program, which was essential to eliminating  the laborious, manual data entry they had to previously conduct. "The information we were inputting was already in PeopleSoft," said Zidwick. "We're going to eliminate approximately 6 weeks of data entry that we previously did with our old system." 
Working with Bryan was a great experience for Zidwick, and not one she was expecting from IT. "Bryan was my hero," said Zidwick, "We couldn't have done it without him. IT was very helpful as well in making sure all of the elements that needed to be in place by the deadline." With the collaboration a success, the Goabroad tool was successfully implemented. 
Goabroad is robust compared to the old process. Before, SAO had a static website that pointed to four different programs students had to use depending on where and how they wanted to study abroad. Now, everything is easily accessible in one place with multiple search options to help narrow down specific results. You can do an advanced search, a simple search, or even a map search. 
Screenshot of the Map Search function. It's easy for users to click on a region that they want to travel to, and see a list of all available programs for that area. 
Other features include the ability to embed Powerpoints, videos and custom questionnaires. If a faculty member wants to know more about a student applying, they can create a custom questionnaire for their respective program. Students can also submit recommendations on Goabroad and even send out recommendation requests to faculty members.
SAO has more control and an easier way to keep track of students and where they are in the application process, in addition to what they need to complete. The system checks for what the student is missing allowing SAO to reach out if needed to give a reminder of what is needed for submission. 
Goabroad also integrates several forms that were previously in paper form. Now students can sign all their documents easily and both SAO and students can keep track of them with a checklist of things that need to be completed. Best of all, SAO can log into other devices instead of the old process of coming into the office to check on students. 
Screenshot of what a user would find on the profile view. The Goabroad tool can keep track of what you have submitted, and what you need to do next. 
"The capabilities are much better than what we had before…"
Thanks to Goabroad and help from DoIT, SAO was able to transform their entire departmental process for addressing study abroad requests. "The capabilities are much better than what we had before," said Zidwick, "We can focus more on the student, and not the student's papers."
Note: The implementation is not always a linear process, so often, it takes some time to fully implement a cloud solution for an office or department.