Todd Haddaway & Stacy Long Generate Interest at Alliance
The two presented UMBC's Developer Toolbox in Las Vegas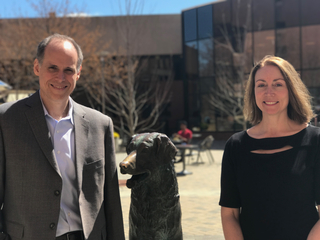 Alliance is an annual, user-driven conference that brings together PeopleSoft technical and functional users from around the world for three days. DoIT's own Todd Haddaway, Director of Database and Identity Management, and Stacy Long, Director of Enterprise Administration & Research Systems, presented UMBC's Developer Toolbox in Las Vegas generating interest and requests from other universities for the source code to the toolbox so they can implement it at their institutions.
The Developer Toolbox for UMBC is a web-based program that allows developers, database administrators, and PeopleSoft administrators to monitor and control PeopleSoft. This allows developers allowing to self-service their problems with 5 unique tools all through one central interface.
Todd Haddaway at Alliance 2017
"It was great to see that there was interest"
Both Haddaway and Long described how the toolbox is used in their job roles, as well as how it has benefited not just developers, but them as well. Haddaway went into some of the details of the tools like where the data is pulled from, while Long went in-depth on how developers at UMBC are using it. 
Originally, the two were supposed to present in just a room meant for 100. They were upgraded to another room and had 200 people come watch their presentation. "It was great to see that there was interest," said Haddaway. "[We got] a lot of questions about why we decided to build the toolbox."
"We actually missed the next session answering questions [from attendees]." said Long. 
With so much interest, Haddaway has decided to open-source the toolbox to over 15 different universities that are requesting it, like Penn State, Cal State and the University of Massachusetts. By open-sourcing the toolbox, Haddaway hopes to help other institutions easily provide these services to their own community. 
"...gives us the opportunity to highlight some of the innovative solutions that we have developed at UMBC"
Overall, Alliance 2017 was a great experience for the two and provided a great networking opportunity as well. "Networking with my peers at that conference is always helpful and by presenting, I made even more connections than I have at previous events." said Long. 
As for Alliance 2018, the two want to present again but on different topics. "Presenting at regional and national conferences gives us the opportunity to highlight some of the innovative solutions that we have developed at UMBC." said Haddaway. "It also fosters conversation and collaboration with folks from other institutions."