GO Kit Series: Assess Student Learning for Course Continuity
Minimize impact of campus closures with a Go Online Kit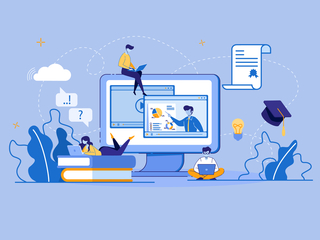 This article is a part of Instructional Technology's Planning Your Go Online (GO) Kit series. Explore communication, active learning, and assessment strategies in an online environment to keep your course on track in the event of campus closure. View our in-depth webinar recording from March 11.  
Maintaining student learning during an academic disruption requires preparation to ensure communication is clear and active engagement opportunities are provided. Assessment of student learning is an important part of maintaining academic continuity. When classes must be canceled, faculty can leverage different instructional technologies to translate the assessment process into a virtual environment. 
What assessment tools and tips help faculty plan and stock their own Go Online Kit?
Flexibility is important, not just in the selections of tools. Review your syllabus and identify areas where you can adjust expectations for assessment collection. It's also important to remember students may have time management or emotional needs to navigate during an emergency (Gravenberg, Carey-Butler, & Horowitz, 2008) so faculty should be prepared to adjust due dates for one, some, many, or all students in a course. Also, ensure students who require accommodations can receive needed support.
Whether classes are postponed due to weather, illness, utility and infrastructure, or other emergencies, DoIT offers many resources beyond Blackboard to support academic continuity. Know which instructional technologies you can use in your Go Online (GO) Kit to maintain academic continuity when your class cannot meet in person. Join instructional technology for this interactive webinar. Click this link to register for the session. 
Reference
Gravenberg, E. V., Carey-Butler, S. R., & Horowitz, R. (2008). Learning from disaster: The lessons of Hurricane Katrina. Fairfax, VA: United Negro College Fund Institute for Capacity Building. Retrieved from https://www.uncf.org/pages/FDPRI-Reports
*With the exception of publisher integrations and licensed tools that have their own support staff, you should avoid requiring software or services that are unsupported by UMBC. If students encounter any technical issues, they will not be able get help from the Technology Support Center or Instructional Technology staff.