May 1: FA2013 Lab & Lecture Hall Software Requests Deadline
Need that certain something installed?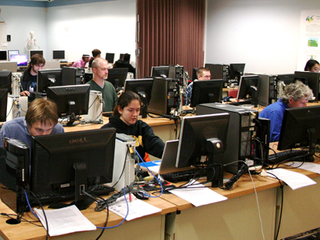 In order to load all lab and lecture hall PCs with our standard set of software (known as an "image"), all requests for additions or changes for Fall 2013 must be received by Wednesday, May 1. For Spring 2014, the lab & lecture hall software "image" deadline is Tuesday, October 1. All software requests must be made each semester (they do not carry over from semester to semester).
To be added to the lab & lecture hall image, DoIT must have the following:
Proof of purchase/licenses
Media and software installation instructions
Please submit an
RT ticket
containing the required information or contact 410.455.3838 and a Technology Support Center (TSC) staff member will assist you. If the request is not received by the deadline, there is no guarantee the requested software will be made available.
For an instructor-only demo of software, please use a laptop. If you don't have a laptop, you can reserve and pick up one at AV Services (020 ENGR Bldg).
If you need software installed on the lab image for a one-time purpose (for example, a 2-day workshop in which all users need access to the software), the
request
should be submitted no less than six (6) weeks prior to the first lab reservation for that class. The software will be removed once you are done.
An e-mail confirmation of the RT ticket will be sent to the requester once the software is installed, typically 1-2 week(s) before the first use of the software; faculty/instructors need to then test the software to ensure everything is working as expected for class. Support for the software is the responsibility of the instructor or department who requested that the software be installed.
Again, proof of purchase and/or license must be provided for as many copies as will be needed for the students in the class. We cannot install software without appropriate proof of licensing.
Although DoIT will make a reasonable effort to get all software packages to work, we can not guarantee that they will. Some packages may not function because of the network, computer hardware, and lab setup. DoIT cannot be held responsible for software that does not work by class time. 
Please contact the TSC at 410.455.3838 if you have any additional questions.