Faculty and Staff Encouraged to Update Directory Listings
Log into your myUMBC profile and make the necessary changes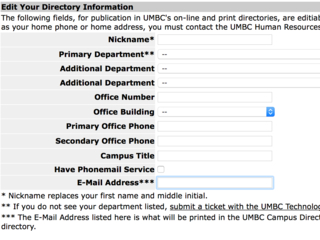 The
UMBC Directory Search
offers a browse by department feature that shows people affiliated with a university department. At times, people may incorrectly appear as part of a department, so it's important to keep the directory updated as correcting this problem depends on the person's affiliation with UMBC. 
Damian Doyle, Director of Enterprise Infrastructure and Support says "The process is quick and easy, it only takes a minute and is intuitive once you are on the page." Actions such as
removing a former employee
or
updating a job title
are quick and easy, and require only a minimum amount of steps. 
"As people are searching for who to contact across campus it can be very frustrating for parents/students and other faculty and staff if information in the directory is inaccurate and leads people on wild goose chases," says Doyle.