Planned DoIT Upgrades for Fine Arts Renovation
New technology improves accessibility for faculty & students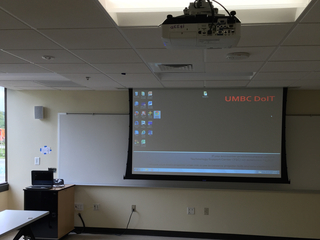 Between Fall 2015 and Spring 2016, DoIT AV Services is taking the opportunity during the
Fine Arts Building renovation
to upgrade both seminar and classrooms. Between now and Spring 2016, 26 rooms will have brand new technology making it the largest single project in DoIT AV Services history to be completed in-house.
Classrooms and seminar rooms will feature high resolution HD projectors or flat panel monitors. Some rooms will be equipped with the latest interactive projectors with finger touch interaction and electronic annotation.
In addition, assistive listening features will be integrated in select classrooms. This will allow professors to wear a microphone and transmit their voice throughout the room. Students who need assistive listening have an earbud with receiver that transmits the sound directly to them so they can sit anywhere in the class. All AV room controls will also have braille or audio feedback.
Active learning classrooms will no longer tether students and faculty to wires to present their content, and will introduce a new wireless solution. A small device that will be ethernet connected will be capable of displaying up to four screens at once from a laptop or smart device and will allow markup on each displayed screen. 
It's simple to join as well, simply by going to a network address and then joining with a 4-digit passcode. David Toothe, Assistant Director for DoIT, said "This is basically an airplay device for all systems, but rather
than showing one person's content this allows the content from multiple people to be displayed at once." 
"This is the largest undertaking in our history." Toothe said, "We're taking the opportunity to install newer technology that will add a new level of accessibility and flexibility for students & faculty."