New Box Experience Now Available For UMBC Users
Box now has sidebar navigation, improved search, and more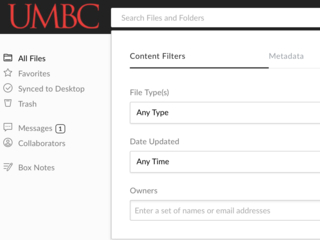 Box
, an online file sharing system that allows you to access your files from multiple devices and
collaborate with others
, recently released an update to its web interface. Some of the new changes include a brand new sidebar for navigation, improved search, an improved tile view for files, along with a few other minor changes. 
New Sidebar
A new, persistent sidebar creates easier access to all your files. Now, the sidebar is always with you wherever you navigate to on Box so things like your 'Favorites' are just a click away. You can also now change your landing page to 'Favorites' rather than All Files allowing for greater customization as to which files appear when you first open Box. You can change your landing page by going into your account settings. Additionally, 'Notifications' have been renamed to 'Messages'.
Screenshot of sidebar navigation in the new box experience. 
New Improved Search  
Previously advanced search options were only accessible after completing a simple keyword search. Now, search results can include content filters to narrow down results and can search by metadata.  
Screenshot shows the new Box experience search bar. Easily switch between your content filters or Metadata.
Other Changes
The new Box experience has a lot of smaller changes as well. Single clicking an item selects it, while double clicking an item or clicking the name opens it. You can now switch between list view or an enhanced thumbnail view for rich previews easier too. Box has also added several new keyboard shortcuts:
Use Ctrl + click to multi select items
Ctrl + C shortcut to copy selected items
Ctrl + X shortcut to cut selected items
Ctrl + V shortcut to paste selected items
3D and 360º images, as well as HD and 360º video can now be viewed in Box without the need of downloading the file. Options to "Invite Collaborators" and "Get [a] Shared Link" are now consolidated under the "Share this Folder" button. 
If you want to revert back to the old Box experience, you can do so by clicking on the question icon at the top of the page. At a later date, the new Box experience will be enabled for all users and you will be unable to revert back to the old interface.