DoIT, Athletics, MCS Team Up to Put UMBC on ESPN
Behind the scenes of student-produced basketball games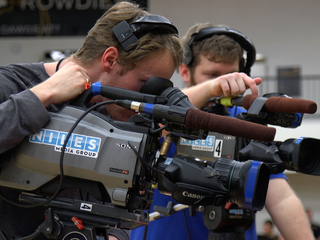 A year ago, Athletic Director Tim Hall and VP of IT Jack Suess had a vision to bring together UMBC students, young alumni, and outside professionals for sports production. Eli Eisenberg, President of VPC, Inc., and '86 alum, would act as a liaison between UMBC and ESPN, along with helping to train the students in what goes into a broadcast.
In a typical broadcast, there is a crew of 24 people, 14 of which are students. Each student has their own role, from cable management, to being a camera operator, and even mixing the game audio. What results is a high quality production that looks just as good as other ESPN college broadcasts across the country. 
Watch the video below to see the behind the scenes of how it all came together.