Kirby Earns Presidential Distinguished Staff Award
Award Ceremony: Wed., April 4, Noon, UC Ballroom
February 27, 2018 3:50 PM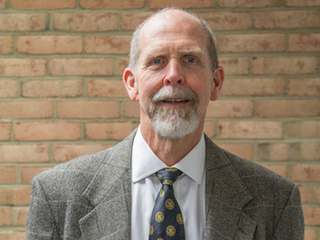 Congratulations to DoIT Assistant Vice President Joe Kirby, who has been selected to receive the 2018 Presidential Distinguished Staff Award. Along with other recipients and their families, Joe will be honored at the Presidential Faculty and Staff Awards celebration on Wednesday, April 4, at noon in the UC Ballroom. The award also includes a one-time, $2,500 addition to pay.
"I am truly honored to be recognized and grateful for the opportunity to work at UMBC," says Kirby, who was also recognized for 30 years of service to the campus in 2016.
Kirby is now the third DoIT staff member to receive the Presidential Distinguished Staff Award, following Kevin Joseph, Director of Business Intelligence in 2014, and Vice President of IT and Chief Information Officer (CIO) Jack Suess in 2004.
"Over Joe's career, he has made many significant contributions to UMBC and DoIT," said Suess in his nomination letter for Kirby. Among other things, Suess credited Kirby for leading DoIT's efforts to prepare the campus for the potential ramifications of a Year 2000 (Y2K) "bug," moving UMBC away from using Social Security Numbers (SSN) as a unique identifier in our IT systems, and evangelizing the use of Request Tracker (RT) as a way to improve campus (not just DoIT) support.  
"Joe is a leader who works with many staff behind the scenes to help them use technology to provide better service and support to our UMBC community," says Suess. "I'm thrilled the campus has recognized Joe's contributions to UMBC through this award!"