"Follow-the-Sun" Webinar Series for Global Accessibility Day
Learn more about inclusive education & digital access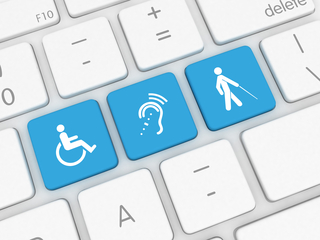 Founded in 2012,
Global Accessibility Awareness Day
is dedicated to driving conversations and building awareness on the importance of accessibility. The seventh annual Global Accessibility Awareness Day is
Thursday, May 16, 2019.
To mark this day, Blackboard will host
a "follow-the-sun" webinar series
to engage in conversations around the latest developments in digital accessibility. 
Webinar sessions include:
11 AM ET - Journey to a More Inclusive Campus
Faced with a three-year mandate to make their campus fully accessible, Atlantic Cape needed an immediate plan of action and an overhaul of many of their processes for supporting students with disabilities. In this session the team will describe their journey from 2015 to today and discuss how they embraced the decree as a "good thing" that provided them with a blueprint and motivation to take actionable steps to improving the quality of the education experience for all their students, not just those with disabilities.
1 PM EST - How the University of Toledo is Developing a Digital Accessibility Culture
The University of Toledo is focused on developing the digital accessibility of their online program and all digital materials used in in-person classes. In this session they'll discuss the challenges they have identified in this process and how the team has tackled those challenges. They'll also describe their launch of Blackboard Ally as a part of the focus on a more accessible program overall.
5 PM CT - Tips & Tricks of Inexpensive Accessibility Testing
This session will cover some inexpensive ways to test the accessibility of your website and applications. Methods will include an overview of how to use automated testing tools, color contrast analyzers, keyboard testing, and the built in accessibility features of an operating system.
All the sessions will be captioned and recorded for on-demand viewing. If you are unable to attend, we encourage you to
register online
so you can receive the recording links and view the sessions at your convenience.
For more information about accessibility support at UMBC: