E-Signature Technology Forging Partnerships at UMBC
Experience and Expertise come together on Walker Ave.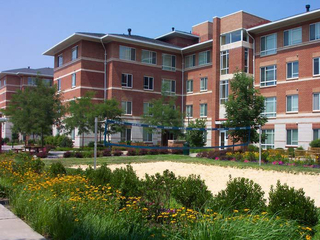 Back in 2016, Trisha Wells from Student Affairs left a meeting with Assistant Vice President of Business Systems Joe Kirby to attend a campus budget meeting. She and Kirby had discussed plans to begin testing UMBC's new electronic signature program, which utilized UMBC's Enterprise DocuSign plan, by applying it to a department's current business process. Their main difficulty, however, was finding a volunteer willing to dedicate the time to experiment with new software tools.
As Wells sat in the budget meeting contemplating this, she listened to Greg Capecci, manager of the Walker Ave. Apartments, describe the costs associated with Capstone's $3600 contract with DocuSign. Wouldn't it be perfect for Kirby to work with someone already utilizing electronic signatures and simply incorporate them in the UMBC enterprise plan? Before long, Kirby and Capecci were meeting regularly to discuss the different options and uses for electronic signature technology and how it can integrate with business practices that rely on paper or PDF/Word documents.
Since the Walker Ave. Apartments staff work with sensitive information such as Social Security numbers for license applications, it's no surprise that Capecci was already using electronic signature technology. The platform not only provides extensive data encryption and authentication, but also allows administrators to view specific data such as the IP address a form was signed from as well as dates and times a form was viewed.
With electronic signature technology, applications can travel quickly between the student, guarantor, and Capstone via secure email instead of slowly passing through certified mail. By transferring to UMBC's enterprise contract, Capecci was able to maintain all of his old security and functionality while gaining access to Single Sign On, adding yet another layer of authentication. Also, the money Capstone saved by giving up its individual contract went directly back to the students in the form of cheaper license fees.
Moreover, students can access all of their documents through the same portal. All of their Capstone and UMBC DocuSign forms now use the same inbox, so students no longer have to navigate multiple online locations to view and sign important documents.  
In addition to making the licensing process cheaper, more efficient, and more secure for students, electronic signatures have also made things much easier for the Capstone staff. The templates they create for their forms can offer easy guidance and tooltips that help ensure that forms are filled out completely and accurately on the first try. This means staff spend less time correcting, reprinting, and resending forms on a day-to-day basis. On the rare occasion that a form does need to be resent, it can be done with just a few clicks. The intuitive interface and automated processes of electronic signature technology makes everyone's work much more productive and streamlined.
Transferring from primarily paper documents to fully digital forms saved Greg Capecci the costs associated with printing, mailing, and storing a large volume of forms, the extra staff required to handle so many paper forms, and the time spent reviewing and correcting documents after submission. Switching over to the UMBC enterprise plan added further security and authentication options at no additional cost. In return, Joe Kirby was able to test the functionality of digital workflow in order to discover more ways it could enhance productivity for other departments on campus. For example, they were able to explore the use of shared envelopes between staff, enhancing their ability to collaboratively manage certain documents.
Now Assistant Vice Provost in the Division of Professional Studies (DPS), Trisha Wells recently partnered with Joe Kirby again to move DPS departmental program agreements into a DocuSign format.  Wells notes that "DocuSign is such a powerful workflow tool and I will continue to move additional business processes every chance I get!"
Stay tuned as more departments share their experience with electronic signatures.
More Info:
·      Visit the DocuSign myUMBC Group
·      Visit UMBC's FAQ knowledge base