FY14 IT User Support: Q1 Review (July, Aug, Sept)
Summary & Drill-Down Reports Show RT, FAQ and Phone Trends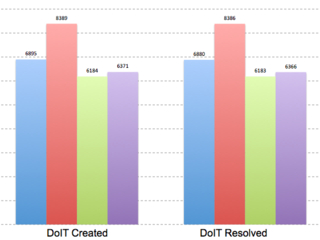 To help provide more timely review of key IT user support metrics throughout the year and not just at the end, DoIT has summarized the following first quarter data for FY14:
Year-to-date comparisons with FY13 show a decrease in overall ticket volume.
Overall FAQ usage has more than doubled over the same period, but users are spending less time and visiting fewer pages per session.
Phone calls declined in July and August, increased slightly in September
Note
: A recent
Educause presentation by the Campus Computing Survey
shows that effective integration of teaching, learning and technology as well as general IT user support are among the highest priorities of Chief Information Officers (CIOs) and other higher ed IT leaders.