Microsoft Office and Box Now Offer Real Time Collaboration
Faculty, staff, and students have new productivity features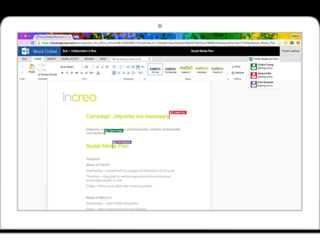 In June 2015,
DoIT announced Microsoft Office
was now available to the entire UMBC campus. Now, Microsoft Office and Box have deeper integrations with each other allowing for more productivity and an improved workflow for its users. There are now 3 key new ways to collaborate using Box and Microsoft Office creating real time collaboration for users. 
The first way is similar to Google Docs, where you can now edit a file at the same time as someone else and have the changes show up in real time as they happen. This extends to Microsoft Word, PowerPoint, and Excel where all your edits are automatically saved. You can also revert to a previous revision at anytime. 
Mobile users on iOS can select Box as the default storage option for Office on iOS. This will allow users to access all their box files from Office and edit them directly on the app. The Box app for iOS will also allow you to open Office and edit your files while tracking all changes automatically. 
For Outlook users, Box will be directly integrated on the site which will allow users to attach files, instantly access all of their Box content and select any files they want to send. Even if you don't have any of your content saved to the desktop, you can always send files from Box.