Joe Kirby Honored for 30 Years of Service
16 DoIT Staff Honored at UMBC Service Awards Tomorrow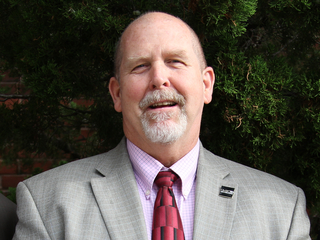 Update: See Joe's UMBC Digital Story at https://youtu.be/Q2cGLtJfxjk
While many have contributed to UMBC's 50 years of excellence, tomorrow the campus will recognize 30 years of service by DoIT's own Joe Kirby, Assistant Vice President for Business Systems, during the annual Service Awards starting at 11:30 a.m. in the UC Ballroom.
One of 16 DoIT staff to be recognized, Joe is especially fitting during the campus' 50th anniversary, as his personal grit perfectly illustrates and has definitely contributed to UMBC's greatness.
After growing up in Baltimore City and graduating from Archbishop Curley High School, Joe went to College Park from 1972-74. He dropped out to work nine years in supermarket retail, an industry that was being changed by technology. Deciding he wanted to pursue a career in IT, Joe got a job at the National Cash Register (NCR) corporation, advanced to a technical position in four months, but had to give it up when NCR realized he didn't have a bachelor's degree. NCR tried to retain him through a part-time position so he could go back to school, but Joe was motivated to earn his degree sooner and quit his job in August to go full time at UMBC in 1983.
"Almost immediately, I felt I'd made a mistake as most classes were filled. One person in particular, Vedette Hull of the Regsitrar's Office, made a full court press to get me into three courses, which allowed me to get used to school again but not drown."
Joe worked a midnight shift at a bank doing clerical work, but In 1984, he excelled in a COBOL II class with Gary Reddick, who offered him a job in Administrative Computing as a student programmer. He worked and attended classes until graduating with his BS in Information Systems Management in 1985.
After graduating, UMBC began to directly benefit from Joe's professional grit and innovation, too. He was offered a programmer I position, and enjoyed the freedom to learn and do as much as his energy level allowed. But when Joe's mentors, Jim Harvison and Reddick, left UMBC, they recruited him by offering him a 50 percent raise.
"As much as I hated to leave UMBC I was getting ready to get married and start a family. Fortunately, UMBC had a change in leadership and I was recruited to come back in late 1986 in a leadership role and I have been here ever since in various roles."
In addition to teaching that same COBOL II class he excelled at, from 1986-1992, Joe rose through the ranks of campus computing, making efficient and effective contributions that saved UMBC millions of dollars and helped position us as one of the most innovative institutions in higher education. For example, he developed or led the following initiatives:
1986: Inherited a dismal audit situation for Administrative Computing and began a string of successful OLA audits which continues today.
1991: Became one of the first higher ed technology departments to go 'lights out operation,' eliminating the need for computer operators
1995: STARS - a telephone response system for class registration and grades
1996: EASI - one of the first campuses to do student administration functions (registration, grades, etc.) via the web
1999: Y2K - Converted HP3000 administrative system to beY2K compliant without any external consulting support
2003: Enterprise implementation of PeopleSoft HR and Finance
2006: REX data warehouse implementation
2008: Document Imaging Implementation
2009: Enterprise implementation PeopleSoft Student Administration
2009: RT (Request Tracker) for campus wide ticket system (help and services)
2009: Implementation of first "cloud" Software as a Service (SaaS) solution at UMBC, which was for Parking Services
2015: Formalization of Cloud solutions totaling 40+ and growing
2016: DocuSign for electronic signature workflows
The Request Tracker (RT) implementation has been particularly noteworthy. According to VP of IT and CIO Jack Suess, Kirby spent countless hours configuring and evangelizing the use of RT, which went from an IT department ticketing system to one of the most innovative, campus-wide service management solutions in higher education. UMBC now resolves well over 100k tickets each year, which also directly influenced DoIT's strategy to develop an FAQ knowledge management system to help keep our ticket growth in check.
"To achieve these results, it took the patience and perseverance of Joe to work closely with dozens of end users to define their needs and figure out how to make RT support their work," says Suess. "Joe creatively worked with functional offices to develop web-based front ends or other add-ones. What Joe has done over the last five years is incredible, and the results he has achieved are unique in higher education."
Reflecting on his own tenure, Kirby has valued UMBC's supportive leadership, opportunities to innovate, collaborative environment, and mostly, the campus community.
"But I am most proud of the staff I've been allowed to recruit," says Kirby. "I feel strongly that we have the best staff of any university in the system. They are personable yet technical, hard working but fun, and most of all, they are committed to success at UMBC."