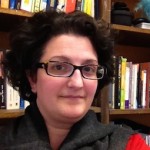 A self-proclaimed Jane of All Trades, Mariann Hawken oversees several Blackboard applications on campus including Learn and Collaborate and provides secondary support for clickers and screencasting. She also enjoys faculty training and outreach, course development activities, and academic transformation efforts.
As a member of the Blackboard Community Leadership Circle and Blackboard MVP (2013-2020), Mariann is active in the Blackboard users community and at conferences, sharing information about distance education policy development, faculty development, and online course support, mentoring and training, migrating systems to managed hosting, and other technical experiences. Past activities include developing comprehensive faculty development programs for online/hybrid course development and supporting course redesign projects that reflect Quality Matters and Exemplary Course standards.
With more than 21 years of experience in educational technology, Mariann holds a Doctor of Management; a Master of Distance Education, specializing in teaching and training; a Master of Education in Instructional Technology; and a Master of Arts in English. She's taught traditional, hybrid and online courses in freshman composition, technical writing, intro to mass communication, and media, technology & society. Mariann is a certified Peer Reviewer and F2F Facilitator with Quality Matters.
Recent Presentations:
2019: (

Almost

) 

Everything

 I Need to Prepare for Ultra I Learned From Data. Bb World Conference, Austin, TX.
2018: Transitioning Academic Learning Environments: A TALE as Old as Time. OLC Accelerate, Orlando, FL.
2016: OERs & Skills for Student Success: Academic Integrity & Financial Literacy MOOCs. OLC Accelerate, Orlando, FL.
2015: Sous Chefs & Apprentices: Mentoring & Training Future Blackboard Experts. Bb World Conference, Washington, DC.
2014: Winning the LOTTO: The Ticket to Success in Supporting Faculty Online Course Development. HBCU Leadership Summit, Online Learning Consortium Annual Conference, Orlando, FL & Bb World Conference, Las Vegas, NV.
2013: TEAM: Technology, Education, Assessment & Monitoring: Building a Better Online Program to Meet Accreditation Standards. EDUCAUSE Mid-Atlantic Regional Conference, Baltimore, MD.
2011: Developing a Quality Matters Based Institutional Policy on Distance Education. Third Quality Matters Conference, Baltimore, MD.