DoIT Upgrades New Media Studio to HD
More Modern Facilities Are "A Boon to Students"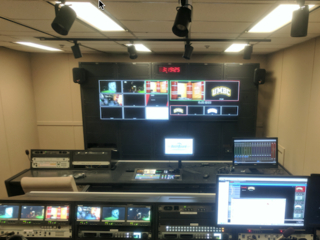 Over the summer, DoIT replaced all of the New Media Studio's analog, standard-definition TV production equipment to high definition (HD). This included three new Sony HD cameras and related components and switchers for video and audio production.
"The upgrade means we'll be able to give UMBC students, faculty and staff the kinds of live production experiences they'd find in the Baltimore area," says Jack Suess, Vice President of IT and Chief Information Officer (CIO). "In addition to improving our institutional capabilities, bringing the Studio up to modern production standards will help prepare students for the kind of work environments they'll encounter."
A good example of this kind of student talent development pipeline ocurred during the very successful first season of HD live streaming athetics events on ESPN3 last year. Working with 'Eli Eisenberg ('86) and his media production company, VPC, Inc, DoIT, Athletics and several Media and Commuication Studies (MCS) students produced more than 20 live men's & women's basketball games that drew rave reviews from ESPN and the America East Conference (AEC). Consisting of 15-20 member crews, the broadcasts were initially produced more by VPC professionals, but by the end of season, they were largely student produced. Several of these students and young alums were then hired by the Baltimore Ravens for the team's own multimedia upgrade to facilities at M&T Bank Stadium and practice facilities in Owings Mills.
"The upgrade to HD is a boon to the students in Media and Communication Studies," says MCS Chair Jason Loviglio. "Working with industry-quality gear and with talented professionals like Professor Bill Shewbridge represents a huge advantage when it comes to finding work in a variety of industries that now rely on in-house video production for websites, streaming, and other applications. Along with the ESPN-3 upgrade in sports broadcasting, UMBC now offers students incredible opportunities to do professional-quality video work."
The New Media Studio is a fee-for-service production facility that has a long tradition of working with faculty in digital storytelling, research grant results dissemination, covering campus events, and producing recorded TV shows like "In The Loop." We also work with courses focused on media production. To tour the space or discuss a potential project, contact Manager Dustin Roddy at 5-3214 or drod2@umbc.edu.
Clockwise From Top Left: The Studio's control room with old analog tube monitors; same room with updated controls, new flat screen monitors and digital equipment, added graphics and media manager stations; one of three new HD Sony cameras with fiber optic cabling; and Ross Graphite Switcher- the main unit of the system.
Pictured L to R at M&T Bank Stadium: UMBC students and alums Kevin Harris, Taylor Crimmel, Karlise Simpson, Jerome Graham, Dustin Roddy, Jordan Becker.