"Follow-the-Sun" Webinar Series for Global Accessibility Day
Learn more about inclusive education & digital access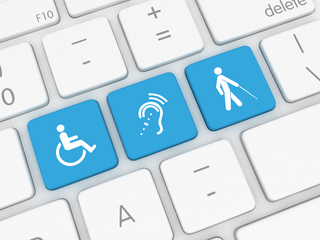 Founded in 2012,
Global Accessibility Awareness Day
is dedicated to driving conversations and building awareness on the importance of accessibility. The seventh annual Global Accessibility Awareness Day is
Thursday, May 17, 2018.
To mark this day, Blackboard will host
a "follow-the-sun" webinar series
to engage in conversations around the latest developments in digital accessibility. There will be nine sessions, including one in Spanish, which will run across seven time zones from Sydney to London to Washington, D.C. to California, with a series of follow-on sessions across the global educational community. 
Webinar sessions include:
9 AM EST - Accessibility Journey at University of Cincinnati
Members of the University of Cincinnati Accessibility Network will share stories and strategies on providing tools and education through involvement on strategic eLearning and university initiatives to understand how accessibility fits into the work that they do, and guide them in setting their own goals and priorities around accessibility.
11 AM EST - Don't Grab Me! Proper etiquette for interacting with persons with disabilities
Inclusive education includes inclusive interactions. This webinar uncovers common misconceptions and shares proper etiquette for interacting with persons with disabilities and service animals.
1 PM EST - Universal Design for Learning at California State University
This session will provide an overview of California State University's Universal Design for Learning (UDL) implementation process, resources developed, and outcomes on the success of students, with and without disabilities. 
3 PM EST - Using technology to expand access to education across Latin America
The Instituto Profesional Latinoamericano de Comercio Exterior (Iplacex) and Andrés Bello University will share their solutions to the need for inclusive education and digital access and the steps they are taking to improve access to education for their students and across the region. Sesión en español.
4 PM EST - The Landscape of Accessibility: ADA Requirements
Passage of the Americans with Disabilities Act was just one step on the journey toward inclusivity. The webinar discusses the current landscape of regulations and support for persons with disabilities and where we are headed next in education and employment.
5 PM EST - Accessibility Matters
If done properly, accessibility concerns can be minimized, and all students will benefit from quality course design. Participants of this session will learn from teachers at the Davidson Institute, a school for the profoundly gifted that educate students in both brick and mortar and online environments.
All the sessions will be captioned and recorded for on-demand viewing. If you are unable to attend, we encourage you to
register online
so you can receive the recording links and view the sessions at your convenience.