VoiceThread is offering free interactive, hands-on workshops
Extend your asynchronous discussions beyond text!
February 21, 2019 1:09 PM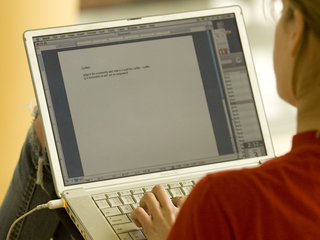 VoiceThread
 allows you to integrate digital media such as images, videos, and documents into asynchronous discussions. Faculty and students can contribute to discussions using a keyboard, microphone, web cam, telephone, or uploaded audio file.
VoiceThread is offering a series of free, interactive, hands-on workshops, so i
f you are new to VoiceThread or just want some new ideas, please check out their descriptions and registration links below:
Using VoiceThread for Student Portfolios
February 26, 7:00 pm ET: Register Here
If you are interested in learning how to use VoiceThread as a portfolio tool to showcase student work or to provide feedback for their work in progress, we can help. In this workshop, we will showcase a variety of student portfolio examples and collaborate on a shared brainstorm discussion.
Humanize Your Online Course with VoiceThread
March 5, 7:00 pm ET: Register Here
Creating engaging online courses is not easy. In many discussion-board based courses, students feel isolated and disconnected from their instructors and classmates. VoiceThread bridges the gaps in social presence typically found in online courses. In this workshop, educators will learn how to establish a social presence and connect with their students using VoiceThread to improve course satisfaction and student learning.
Using VoiceThread for Assessments
March 12, 7:00 pm ET: Register Here
Are you looking for new ways to assess your student work? If you use written exams and quizzes, this workshop can show you alternative ways to evaluate student learning using VoiceThread. We will discuss strategies for improving student presentations, using comment moderation, and designing portfolios that can replace written exams.
VoiceThread and Storytelling
March 19, 7:00 pm ET: Register Here
Most cognitive scientists agree that storytelling is a great way to help your message stick in the minds of an audience. Our minds are fine-tuned to remember information shared within a narrative structure, not a broadcast lecture. In this workshop, participants will learn how to use VoiceThread to create engaging stories with their students.
About the Workshops
These workshops are completely free. The sessions are led by VoiceThread's instructional designer and online educator George Haines.  George will share his expertise to help you get the most from VoiceThread.