Meet TSC Senior Student Consultant Christian Oyson
A look into everyday life at the Technology Support Center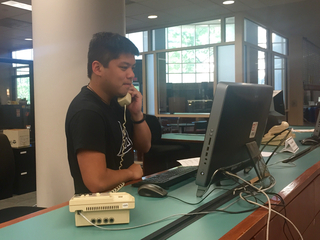 For over a year, Christian Oyson has worked Tier 1 support for the
Technology Support Center (TSC)
here at UMBC, providing assistance to students, faculty and staff. Oyson, a senior majoring in Informations Systems with a minor in Computer Science, started out at the TSC in summer 2014 as a student consultant. On a daily basis, the TSC gets a variety of calls ranging from user accounts, computer issues, phones, to internet complications and blackboard assistance. "If it's anything technology related, we can try to assist you." says Oyson. 
On average, working at the TSC fluctuates depending on the hour and how many people are on duty. During a regular semester, there are two to three students working at a time and get about ten calls per shift. "Most people that call us do tend to be friendly," says Oyson "but sometimes we can get calls from people frustrated on their issue and we do what we can to keep them calm while assessing the situation."
Not all calls lead to a complex solution. Oyson recalls one call he had that was a simple fix involving a user who could not turn on their computer even though everything appeared fine. He had asked them if the computer was plugged in securely to an outlet, to which the user replied that it was plugged into a power strip. Oyson then followed up with his question and asked if the power strip was turned on, something the user did not think of. "The next thing I hear on the phone were happy cheers and sighs of relief." Oyson said "I guess the saying "Try turning it on and off again" does come in handy."
Not every call is as easy, and when it is really busy, such as during the first few weeks in the beginning of the semester or during a campus wide situation, the TSC springs into action. Oyson says "If it gets extremely busy, all hands on deck. Depending on how many are on duty, we have a rotation system determining who takes the call, but if things get really busy, then whoever is available has the call." 
Joining the TSC can be a great opportunity to break into the tech field and boost your communication skills according to Oyson. He mentions that starting out is challenging, but it gets easier as it goes on. "At the TSC, we talk to people from all walks of life: Old and young, tech experts and novices, and people from around the world." Oyson says "You really don't know who you are talking to until you answer the call. With that said in mind, be ready and familiar with various approaches on how to tackle on a situation."
Oyson will continue his work at the TSC through the upcoming fall semester. "I plan to continue working this position until I graduate in the spring of 2016 gaining as much knowledge and experience I can in preparation for the IT career ahead of me" Oyson said.