Welcome to 2019 - A New Year to Try These Tech Tools
Enhance your teaching toolbox with instructional technology!
January 28, 2019 10:43 AM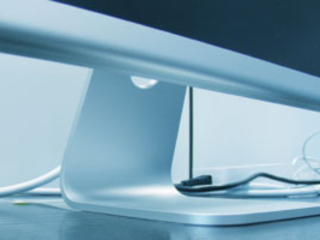 It's no secret that teaching and learning has been expanded to include technology beyond a slide show presentation.  As a matter of fact, today's students expect it! But do you know what technologies are available to you as an instructor at UMBC?  Although there are many tools you can easily access to enhance both engagement and the learning outcomes of your students, below are some of the tech tools we support that you may want to add to your teaching tool box.
Register for TechFest 2019 on Friday, March 1st where you'll have the opportunity to try out the tools below:
Blackboard Ultra.  Did you know that UMBC is planning to transition from Blackboard Learn to Blackboard Ultra (Bb UX)?  Bb UX is a new Learning Management System with simplified features that make your course mobile-friendly and accessible to students.  All instructors now have access to a Bb UX Course Preview when they log into Blackboard, so you can see what your current Blackboard Learn course looks like in the new system.  Not using Blackboard yet? Use your sandbox to play around and create assignments and assessments, embed videos, deploy classroom discussions and schedule online class meetings!  View the Blackboard Ultra FAQs, sign up for online Blackboard Office Hours, or attend one of DoIT's Instructional Technology Team workshops to learn how to start using Bb UX!
Qwickly Attendance.  Need an efficient way to take attendance in those 200+ student classes?  Qwickly Attendance to the rescue! When using this tool with Blackboard, you can require students to check-in through a live session you create, send emails to absent students, and allow students to see their attendance records.  Get started with Qwickly to make your attendance tasks easier!
Panopto.  Has anyone ever asked if your lectures were recorded and available for review?  Well you can make these available to your students using Panopto and do it right in Blackboard!  Panopto now replaces TechSmith Relay and provides the capability to perform screen casting with voice, incorporate interactive quizzes right inside the video, and import results into your Blackboard grade book.  This tool is also great for creating or identifying and adding supplemental lecture material for students to view outside of class. Don't know where to start? View the recent Panopto webinar for a tool introduction or see the Panopto FAQs for help.
VoiceThread.  Incorporate a host of online interactive strategies using this multimedia tool to get your students engaged!  VoiceThread provides the ability for instructors and students to navigate a slide deck and provide responses via text, voice, audio file, or webcam.  This tool is a great way to share comments with visual aids, conduct oral assessments, facilitate debates, or critique a document and do it all online!   Start spicing up the online teaching and learning experience using the VoiceThread FAQs to find out how!
Respondus Lockdown Browser.  Relief for your worries about academic integrity violations during assessments is available through the Respondus Lockdown Browser tool!  When enabled, this tool proctors student exams taken through Blackboard's Test tool. Students won't be able to navigate other websites or applications during an assessment that has been deployed, and all questions must be answered in order to exit the exam.  See the Respondus Lockdown Browser FAQs for more information on how to enable this helpful tool.