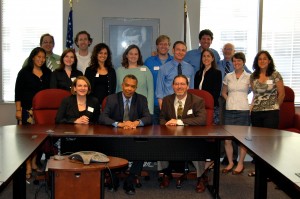 UMBC has several resources available to staff, and the FAQ and myUMBC portal is a great way to access them all.
How do I create my account?
In order to take full advantage of the resources available at UMBC, you'll need to create an account. If you haven't already done so, find out how here.
How do I get online?
UMBC offers two wireless networks: UMBC Visitor and Eduroam. Eduroam is a global wifi network that provides encrypted network traffic and uses your UMBC login. UMBC Visitor is meant for people who don't have a login to connect, and all traffic that goes through it is unencrypted. You can read more about it here, and learn how to connect using these steps.
What is myUMBC?
After getting online, one of the main areas you will go through is our campus web portal, myUMBC, that lets you follow other organizations on campus for news and updates and events. From here, you can access services like your UMBC Gmail account, Blackboard, and additional topics like billing and classes & grades. There is also a mobile app for both iOS and Android, and you can subscribe to different UMBC organizations for news and updates.
To stay up to date on the latest DoIT news, follow the DoIT myUMBC group.
What are some of the services UMBC offers?
As a student, here are some of the services and software you might be interested in:
For a full list of software that is available to download, visit the Software page on our FAQs
What if I have questions?
DoIT has an extensive collection of FAQs in case you ever need help troubleshooting something yourself. You can even suggest corrections to any FAQ you see.
If you can't find a solution in our FAQs, you can submit a Request Tracker (RT) ticket online or contact the Technology Support Center.