Setting New Technology Standards in Existing Seminar Rooms
How AV services can upgrade your seminar room technology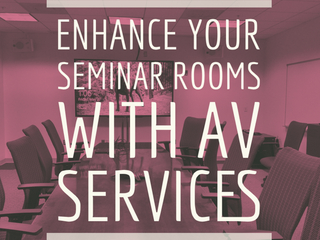 In the Information Technology and Engineering Building (ITE), room 325B was just a simple conference room. Equipped with just a projector and a single VGA cable for input, the connectivity options were severely limited. A tall audio visual (AV) rack in the corner of the room housed all sorts of outdated inputs, from VHS to DVD. The room was just not equipped to match the technological needs of today, but AV services changed all that by working with the CSEE department to meet their needs.
What ITE 325B used to look like. In the corner of the room was a large AV rack with lots of outdated technology and overhead was a loud projector that dimly displayed presentations. 
"After over 125 installs, what works best is second nature."
Jack Malone, lead technician for DoIT's AV Services is no stranger to the process of upgrading rooms. His job involves speccing equipment, finding resources, and even installing these upgrades into the rooms. Malone knows what works best with varying rooms, such as ITE 325B. "After over 125 installs, what works best is second nature." said Malone. "Rooms, for the most part, organize themselves. In this case [for ITE 325B], and rooms like it, our decision is already made as to where to locate our equipment." 
Once determining where the new equipment is going to go, it's just a matter of what the room needs. Malone doesn't work alone in figuring out what a room needs, and instead collaborates with another AV Specialist named Danielle Brown.
"...We plan based on the needs of the department…"
Brown is also no stranger to AV upgrades. After being a full time AV Specialist for 2 years, she's equipped over 50 spaces with AV upgrades and installs. She wrote the proposal for the project and designed the system in ITE 325B with help from Malone. In addition to that, she got quotes on equipment and selected which vendors to use based on who gave her the best price. 
"Like any install we do, we plan based on the needs of the department and what they ultimately want to use the space for." said Brown.
For ITE 325B, the main focus of the department was presentations and conferences. The room was actually equipped to handle that, which helped Brown and Malone quite a bit. "In this case, some of those components were already installed," said Brown. "so we were able to retain some parts of the existing system and incorporate them into the upgrade to save time and money."
Before AV Services stepped in, the room was just equipped with a dim projector along with a VGA input. Now, the room features a 90 inch HD television with easily accessible HDMI input, allowing for bright and crisp presentations. Older devices that connect to the TV have their signal upscaled thanks to a newly built in scaler, which helps with image clarity.  
A before and after comparison in the AV rack changes. Gone are the VHS inputs and other older technology. Instead, the new, much shorter and more compact AV housing holds a blu Ray player, a built in scaler that up converts any non HDMI signal to 1080p, and controls mounted on the top of the housing for quick and easy access. 
"Elegant infrastructure gets oohs and ahhhs." 
AV Services strives for elegance when they upgrade your room. Malone reflects this with elegant hardware like the built in scaler which allows to convert any source to 1080p, preventing the need to configure your display settings before you project your screen on the TV. "To me, elegant infrastructure gets oohs and ahhs and it blends into the environment." said Malone. 
What most departments aren't aware of that this type of work can be done in-house rather than contracting these jobs outside of UMBC which is why AV Services wants to spread the word that they are happy to consult with departments to build, design, and install systems. The cost to the department is the equipment provided to them. "At the very least, we can work with them to come up with a low-budget solution. If they decide not to pursue there is no money wasted on labor or consulting costs." said Brown. 
"We would love to hear from any department interested in making changes…"
Not every room will be like ITE 325B and AV Services understands that. If they are frequently performing maintenance on a departmental space or have a lot of break-fix tickets coming in from a space, they will contact the department to help them improve the system so they have something that works more reliably.
There are no set packages to request for your room and AV Services works directly with the department to determine their needs at a cost that saves both time and money. "We would love to hear from any department interested in making changes to their instructional technology." said Brown. 
If your department has a space they are looking to upgrade, you can submit an RT ticket to the Classroom Technology queue. In addition, you can call and set up a meeting with the AV Services team. 
The renovated ITE 325B conference room. Equipped with a 90" HDTV and support for HDMI input. A distinct advantage of the TV compared to the typical projector is a brighter, more detailed image.