Meet Khalid Muqueeth & Learn About His 2 Years Working in IT
Student worker reflects on the TSC before he graduates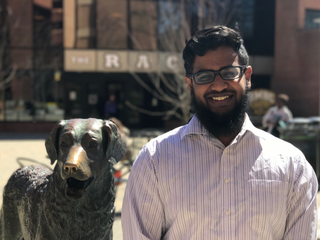 Khalid Muqueeth, a senior in information systems, is a student worker at the Technology Support Center (TSC), which is the first stop in assisting the UMBC community with technology questions and requests. As he prepares for graduation, Muqueeth reflects on his past two years as a Senior Consultant at the TSC.
Growing up, Muqueeth had an affinity for technology. He always went after the tech classes in high school rather than the art ones. Muqueeth was also good with talking to people in general, so naturally the TSC was a good fit for him.
When he first started at the TSC, Muqueeth was thrown off as to what he would be doing. "I didn't know what to expect," Muqueeth said. "I thought I would be doing more hardware stuff." Things like hardware support are one of the few things the TSC can't do. Although he was good at answering phones, he made a small script of what to ask people to better assist them with their problems until he had it memorized by heart.
"One thing I always try to follow is, life is too short [you should] help someone else."
He also recalls his first day as a jumpstart into working in IT support. On his very first shift, there were multiple calls coming in at once and a constant rush of people coming up to the front desk seeking tech support. 
It wasn't a solo effort though, as Muqueeth would go on to learn. Even during the constant rush, there was always someone with him at the desk to help out when needed. "It's a group effort more than a solo effort," Muqueeth said. "Everybody who works there, we all have each others backs."
When not at the TSC, Muqueeth spends part of his time volunteering. Ever since high school, he has actively volunteered with Habitat for Humanity and has gone on to join Helping Hand. "One thing I always try to follow is, life is too short [you should] help someone else." said Muqueeth. 
He also finds time to volunteer at soup kitchens, while also playing an active role as an advisor to the Muslim Student Association (MSA) here at UMBC.
"....It's like a little world in an office"
For the next wave of TSC student workers, Muqueeth has some key advice to pass down. First, practice makes perfect when you're answering phone calls and it's beneficial to recognize the tone of the person you're talking to. The most important piece of advice? Don't be afraid to fail, since you will learn a lot with assisting with different types of people. 
 "It's a spontaneous job, no matter what you'll be asking for help." Muqueeth said. 
Looking at his past two years, Muqueeth never imagined staying on this long, but has felt good for the times he was able to help people and is thankful for it. He attributes it to two main things; his fellow students he has worked with and how fulfilling the work is when he helps someone. "Everyone is different and fun," said Muqueeth. "It's like a little world in an office."